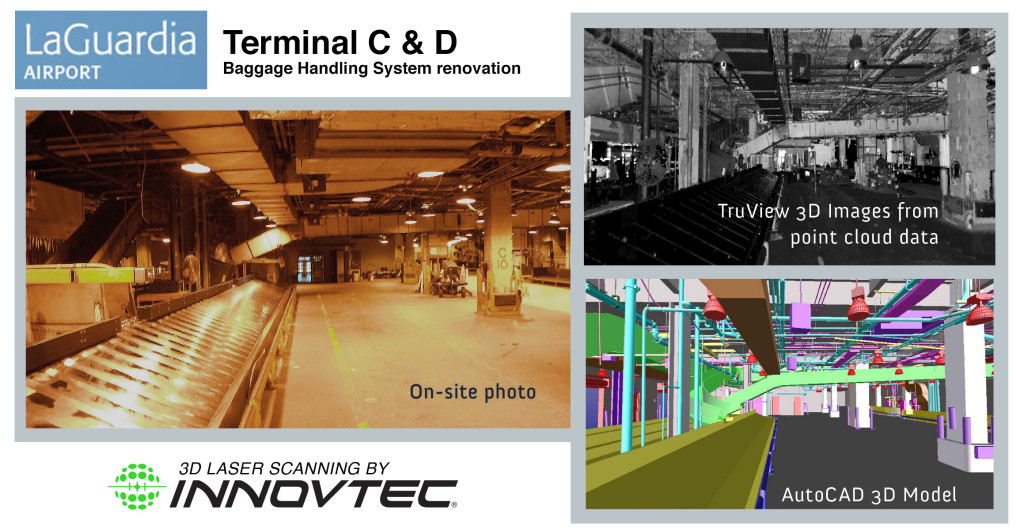 Location
Flushing, New York
Owner
Port Authority of NY/NJ
Consultant
CAGE, Inc
Scope
15,000 sq. ft. working bag room
Execution
2.5 weeks
Deliverables
AutoCAD 3D models and TruViews
THE CUSTOMER
Early in 2011, CAGE recruited Innovtec to assist them on the Baggage Handling System (BHS) renovation in Terminals C and D at LaGuardia Airport in NYC. The area undergoing modifications had no reliable as-built drawings on record. CAGE desired a laser scanned, documentation solution with a rapid turnaround so that they could make the BHS updates in a timely, but accurate manner.
TECHNICAL RESPONSE
Innovtec consulted CAGE to provide the custom deliverable that fit their exact needs. The primary challenge on the project was the limited timeframe to perform on-site scanning activities in a busy airport baggage facility. Another concern Innovtec addressed was the ability to scan two separate baggage areas and create symmetry with survey grade accuracy between the two distant spaces.
THE SOLUTION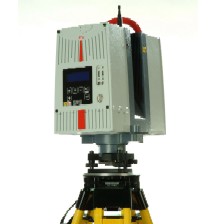 Using a phase-based Leica scanner, Innovtec scanned from 40 strategic locations in the 15,000 square foot area, capturing all possible MEP and existing BHS with the laser scanner. Innovtec also set permanent monumentation through the airport to function as survey control usable on future projects. Innovtec referenced the final 3D model to the existing survey control, delivering the completed AutoCAD model within two weeks. All MEP objects 1/4" and larger were modeled, including the threaded rod supports for the conveyor and catwalks.
THE RESULTS
CAGE viewed Innovtec's AutoCAD 3D model and TruViews as a valuable asset to the design process and subsequent successful BHS installation. CAGE used the model to establish a clear conveyor right-of-way enabling them to avoid collisions with ceiling mounted MEP. The owner received a great value-added tool to allow them to mitigate major design errors in advance.
Contact us by phone: 1-925-246-5706, via email: sales@innovtec.com or on the web: www.innovtec.com for more information