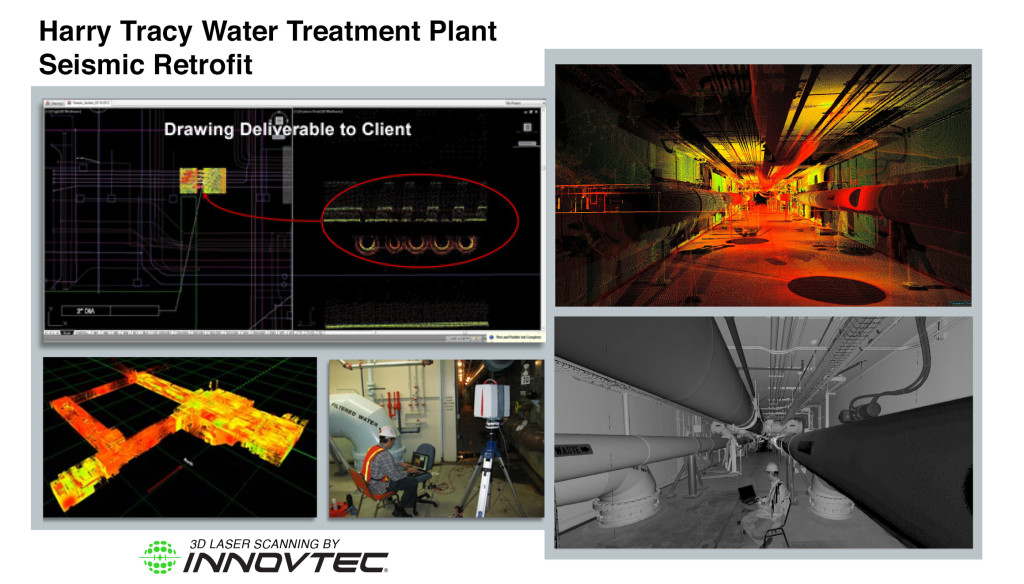 THE CUSTOMER
The Harry Tracy Water Treatment Plant in San Bruno, CA required a major update to make the facility more seismically sound, to improve water treatment capacity and maximize overall reliability. After being awarded the large contract to lead the reconstruction project, Kiewit Infrastructure Group immediately turned to Innovtec knowing the current drawings were outdated and unreliable for the required structural calculations.
TECHNICAL RESPONSE
One of the project subcontractors, Green Street Engineering, LLC. initially requested that Innovtec provide 2D drawing sheets in lieu of 3D modeling or a complex BIM. We suggested a hybrid solution which turned out to be ideal for the clients.
THE SOLUTION
Innovtec produced a set of 2D drawings enabling workers in the field to easily document the MEP elements that required reinforcement by simply reviewing the drawings in the field and adding notes to the Innovtec drawings. Additionally, we provided 2D cross-section views, which combined with 3D TruView point cloud images provided the needed data for structural calculations. The structural engineers also used the TruView images to safely inspect pipe connection types allowing them to accurately specify and design the correct bracing. Using this procedure enabled the manufacture and installation of the seismic retrofit without errors and ahead of schedule.
THE RESULTS
Innovtec developed highly effective and cost conscious solutions to this demanding project by understanding the needs of its clients. The field scanning operations were completed in one day, the TruViews were submitted two days later and the final 2D drawings two weeks after that. The total price for our work was under $10K.
Contact us by phone: 1-925-246-5706, via email: sales@innovtec.com or on the web: www.innovtec.com for more information